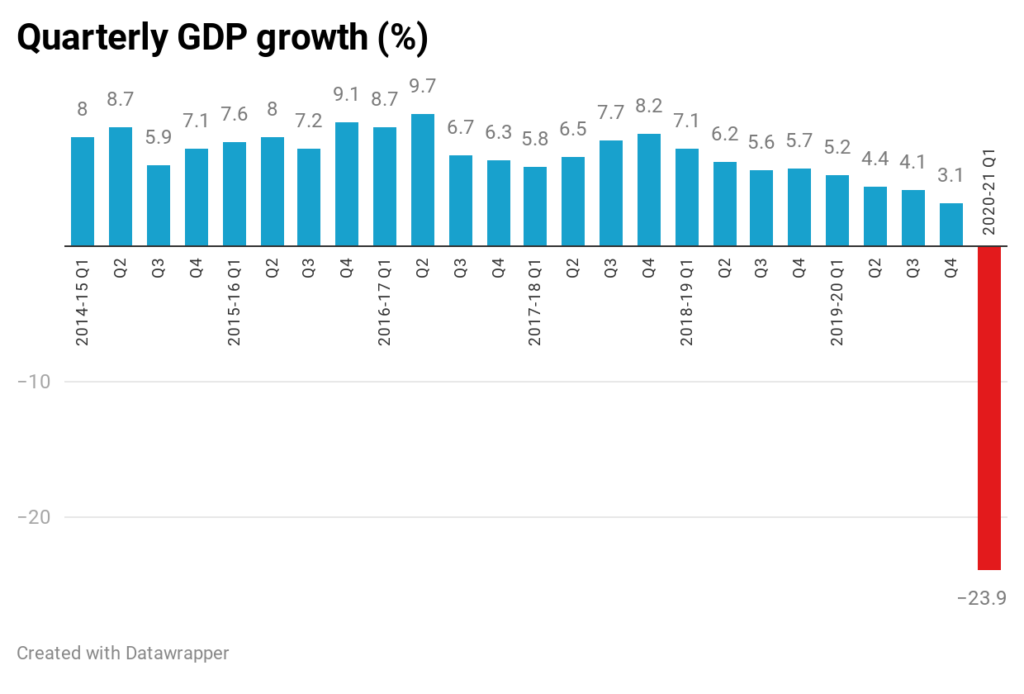 Sthitapragnya Deshpande worked at China
While many claim that it is because India is a democracy, in reality there are a large number of reasons for this. I am an Indian who was born and raised in India, have been visiting China for the past 15 years, and now live and work here.
This has enabled me to see the way China actually works from much closer.
1) Systems of governance and attitudes of government - China has a Chinese communist (with large traces of socialism and capitalism) governance system. This enables (a) the government to immediately sense what people want (b) what people need (c) what is good for people (d) with an extremely high level of local independence to take off projects (e) with exceptionally low levels of bureaucracy.
【回答】在中国工作
虽然很多人声称这是因为印度是一个民主国家,但实际上这是有很多原因的。我是一个在印度土生土长的印度人,过去15年一直访问中国,现在在这里生活和工作。
这使我能够更近距离地观察中国的实际运作方式。
1)治理体系和政府态度——中国有一个中国式共产主义(有很大的社会主义和资本主义的痕迹)的治理体系。这使得(a)政府能够立即感觉到人们想要什么(b)人们需要什么(c)什么对人们有益(d)以极高的地方独立性来启动项目(e)官僚程度极低。
For example: When building the 3 gorges dam, China was able to do it once 70% of the villagers agreed to the resettlement. The local government worked hard to convince villagers that they would gain from the project and that it was for the betterment of the nation. All the displaced got alternative larger accommodation + jobs immediately - the jobs came before they left their homes. The local government did not have to keep asking Beijing permission for everything.
In India, in every infrastructure project, the opposite is true. In the Narmada Sardar Sarovar project , the government did not try to convince people or deem it necessary to convince people how the 3000 small, 135 medium and 30 major dams being built causing their displacement would help them. To top it, most villagers did not get decent alternative homes, no jobs - in other words they all got ripped off by their own government. As a result, they had to take the assistance of others to put a stop to this exploitation in the form of the "Narmada bachao aandolan".
例如:在建造三峡大坝的时候,只要70%的村民同意安置,中国就可以做到。当地政府努力说服村民,他们会从这个项目中获益,而且这是为了国家的进步。所有离开家园的人会立即得到了更大的住所和工作——工作在他们离开家园之前就到来了。当地政府不必每件事都向北京申请许可。
在印度,每个基础设施项目的情况都恰恰相反。在 Narmada Sardar Sarovar 项目中,政府并没有试图说服人们,也没有认为有必要说服人们,正在建造的3000座小型、135座中型和30座大型水坝导致的流离失所,政府将如何帮助他们。更糟糕的是,大多数村民没有像样的替代住房,没有工作——换句话说,他们都被自己的政府敲诈了。因此,他们不得不借助其他人的帮助,以" Narmada bachao aandolan"的形式制止这种剥削。
Politicians - Chinese politicians think how they can develop China and make a little money simultaneously. They are also highly answerable to their high command and superiors. Indian politicians think how they can make lots of money at the expense o the country , let the country be damned. they are not answerable to anyone.
2) Humility + Learning for the best - The Chinese repeatedly (even now) acknowledges that it needs to do a lot to develop the nation, and always reiterates that it needs to learn from the best. hence it invites the best in the world to come and build in China - for themselves as well as for Chinese people. Chinese companies in turn learn the craft from the best, and subsequently start to make these products on their own.
政治家——中国的政治家们思考着如何在发展中国的同时还能赚到一点钱。他们也对他们的最高指挥官和上级高度负责。印度的政治家们则在思考他们怎样才能以牺牲国家利益为代价来赚取大量的金钱,让这个国家被诅咒。他们不对任何人负责。
2)谦虚+向最好的人学习——中国一再(即使是现在)也承认,为了国家的发展需要做很多事情,并且总是重申它需要向最好的人学习。因此,它邀请世界上最好的人来中国建设——为了他们自己,也为了中国人民。反过来,中国企业也向最好的人学习工艺,然后开始自己制造这些产品。
for example - the only elevators and escalators you will find in China are Siemens, Schindler and Kone - all made in China. Subsequently the companies that make it with these German companies have now started to make them on their own using the same equipment. Similarly, all cars are made by Chinese companies collaborating with BMW, SAaab, Ford, Nissan, Mazda and Mecedes Benz. They are 100% made in China.
This is the same for clothes, concrete, buildings, high speed rail, land reclamation, watches and clocks, mining, heavy machinery, everything.
The Indian government unfortunately still (despite having the brightest people in the world) behaves like a beggar, begging from ADB and World bank, yet pretending to be the best and hence not learning form the best. As a result, we are still a nation of coolies - albeit doing IT coolie work, while millions go hungry and our farmers find it so bad that they have to commit suicides while the government and people watch uninterestedly
例如,你在中国能找到的电梯和自动扶梯只有西门子、迅达和通力——它们都是中国制造。随后,与这些德国公司合作的公司现在开始使用同样的设备自己生产这些设备。同样,所有的汽车都是中国公司与宝马、萨博、福特、日产、马自达和奔驰合作生产的。它们是100%中国制造的。
服装、混凝土、建筑、高速铁路、填海、钟表、采矿、重型机械,所有的一切都是如此。
不幸的是,印度政府仍然(尽管拥有世界上最聪明的人)表现得像个乞丐,向亚行和世界银行乞讨,却假装自己是最好的,因此没有向最好的人学习。结果,我们仍然是一个苦力的国家——尽管做着IT苦力的工作,而数百万人挨饿,我们的农民发现情况如此糟糕,他们不得不自杀了,而政府和人民却漠不关心地看着。
Despite the physical proximity and our common goals, India does not even try to co-operate with China to get a win win solution. Insitead it sucks up to wetern entities who are naturally more interested in themselves.
3) Chinese people are more interested in development, Indians are more interested in infighting, caste issues and preventing other Indians from doing well.Ask any Indian and he / she will testify to this. The government merely mimics the way we people think. and we do not have any good leaders who can take us on the path towards development, keeping these lesser important issues aside for the time being (Modi had this ability, and I had high expectations from him for my country, but unfortunately he has disappointed me)
尽管印中两国地理位置相近,而且我们有共同的目标,但印度甚至没有打算与中国合作以获得双赢的解决方案。相反,它总是吸引那些天生对自己更感兴趣的西方实体。
3)中国人对发展更感兴趣,印度人对内斗、种姓问题和阻止其他印度人发展更感兴趣。随便问一个印度人,他/她都会为此作证。政府仅仅是模仿我们人民的思维方式。我们没有任何优秀的领导人能够带领我们走上发展的道路,暂时把这些次要的问题放在一边(莫迪有这种能力,我对他领导的国家抱有很高的期望,但不幸的是,他让我失望了)
4) India has still not decided which direction it wants to take - thus it is like a chariot with 8 excellent horsemen and 16 excellent horses - all pulling it in different directions! One set of people want to globalize, the other want sto stay local. One wants Indian companies to progress while the other wants foreign companies to come in and carry out work. ne wants to invest in schools infrastructure and hospitals while the other wants to spend more on arms and ammunition. In the bargain, the Indian citizen gets royally screwed - some know it most either do not or laugh it off as a measure to ensure their own sanity.
5) Chinese peopleChinese people co-operate with each other - in China as well as abroad. They realize that by helping others alone they too will develop and profit. Indians usually try to discourage other Indians - in India and abroad
4)印度还没有决定它要走哪个方向,因此它就像一辆战车,有8名优秀的骑兵和16匹优秀的马,所有这些都把它往不同的方向拉!一部分人想要全球化,另一部分人想保持本地化。一方希望印度公司发展,而另一方则希望外国公司进来开展工作。一方希望投资于学校基础设施和医院,而另一方则希望在武器和弹药上投入更多资金。在这场交易中,印度公民被狠狠地耍了,一些人清楚这一点,大部分人要么不知道,要么一笑置之,以此作为确保自己理智的一种措施。
5. 中国人民彼此合作,无论是在国内还是国外。他们意识到,通过帮助别人,他们也会得到发展和利益。印度人通常试图阻止其他印度人,无论是在印度还是在国外。
There is the popular story of Indian crabs - the jar containing them did not have a lid. When the fisherman was asked, he replied,"these are Indian crabs - if one try to escape, the others just pull him back into the jar!"
This is sadly 100% true in India and abroad for Indians. Thus we never achieve our full potential. The few Indians and Indian companies that do well are despite this.
Thus India is bogged down in joblessness, backwardness of infrastructure and hopelessness despite Indian people being among the brightest and most hardworking people I have met in my life, and China forges ahead.
6) India listens too much to what the rest of the world has to say. China does not unnecessarily give western nations excessive importance if it does not benefit Chinese people.
有一则关于印度螃蟹的流行故事——装螃蟹的罐子没有盖子。当有人问渔夫这个问题时,他回答说: "这些是印度螃蟹,如果有一只想逃跑,其他的螃蟹就会把它拉回罐子里! "
可悲的是,这对于在国内外的印度人来说,是完全正确的。所以,我们永远无法实现我们的全部潜力。少数做得好的印度人和印度公司也是如此。
因此,印度陷入了失业、基础设施落后和绝望的泥潭,而中国正在向前迈进,尽管印度人是我一生中遇到的最聪明、最勤奋的人之一。
6)印度太多地倾听世界其他国家的声音。如果西方国家不能造福中国人民,中国就不会过分重视它们。
Kevin Limbu studied at Janapriya Multiple Campus, Pokhara
10 reasons Why is the India lagging behind China in terms of economic development
#1. An authoritarian government
"Once committed to a focus on economic growth, some good policy decisions were implemented quickly and efficiently. From the time Deng (Xiaoping) set the direction 25 years ago, it has not been altered by party politics, ideology or leadership changes," says Kenneth J Dewoskin, Senior Consultant, PricewaterhouseCoopers (China).
While India's corporate leaders agree that this could be true, they are emphatic that India's vibrant democracy is the only way for the country to ensure that growth and development reaches all.
"There is chaos in it and sometimes policy decisions tend to be reversed. But ultimately India's democracy is essential for the country's welfare," says Lalita Gupte, Managing Director, ICICI Bank.
#2. High savings rate
【回答】就读于印度博克拉亚纳普里亚校区
为什么印度在经济发展方面落后于中国的10个原因。
1. 威权政府
"一旦致力于以经济增长为重点,一些好的政策决定就会迅速有效地得到执行。从25年前邓确定方向开始,它就没有受到党派政治、意识形态或领导层的更迭而改变。"中国普华永道高级顾问 肯尼斯·J·德沃斯金 说。
虽然印度企业领导人一致认为这可能是对的,但他们强调,印度充满活力的民主是确保增长和发展惠及所有人的唯一途径。
ICICI银行董事总经理拉丽塔·古普特表示:"其中存在混乱,有时政策决定往往会出现逆转。但归根结底,印度的民主制度对国家的福祉至关重要。"
2. 高储蓄率
According to Dewoskin who has been involved with China for the last 40 years, China has a high savings rate, which is recycled and concentrates wages paid to workers into four large state banks.
This capital is in turn directed by the leadership, which concentrates this available capital into key projects.
This capital has consistently financed more than 85 per cent of China's infrastructure investment.
#3. Investment in models and showcases
China's leadership has always focused on investment in models and showcases. All this has helped canalize foreign direct investment into the country and helped create local economic development.
For instance, Shenzhen and Zhangjiagang were developed into fantastic models that could help sell not only the region, but also China as a whole to investors.
China created awe-inspiring gateways for visiting foreign investors: the Beijing and Shanghai airports, Pudong Development Zone, and Beijing's Financial Street are just a few examples.
That model has helped many companies who were tentative about China make up their minds about setting up a centre there.
过去40年来一直与中国打交道的德沃斯金表示,中国的储蓄率很高,可以循环利用,并将支付给工人的工资集中到四家大型国有银行。
这些资金反过来又受到领导层的指导,领导层将这些可用资本集中到关键项目上。
这些资金一直为中国85%以上的基础设施投资提供融资。
3. 投资于模式和展示
中国领导层一直把重点放在模式和展示上。所有这些都有助于将外国直接投资引入该国,并有助于创造地方经济发展。
例如,深圳和张家港已经发展成为极好的模式,这不仅有助于推销该地区,也有助于向投资者推销整个中国。
中国为来访的外国投资者创造了令人敬畏的门户: 北京和上海的机场、浦东开发区和北京的金融街就是其中的几个例子。
这种模式帮助许多对中国持犹豫态度的公司下定决心在中国建立一个中心。
Ganesh Natrajan, CEO of Zensar Technologies recalls how his company was wooed to set up a centre in China.
Zensar was wooed by Zhuhai, a tiny city in South China's Guangdong province. The city's mayor rolled out the red carpet for the company, laying perfect roads, building the software park and putting all the facilities in place even before company officials could visit the city for the first time.
The result was that when Zensar officials made the trip to Zhuhai they were greeted with impressive facilities that convinced them immediately to set up a centre there.
Now when was the last time India pursued any investment so aggressively?
#4. A consistent and thoughtful marketing effort
China has sold itself on a single point: the size of its market.
赞萨科技的首席执行官加内什•纳特拉詹回忆了他的公司是如何被吸引在中国建立中心的。
珠海是中国南方广东省的一个小城市。这个城市的市长为公司铺设了红地毯,铺设了完美的道路,建设了软件园,甚至在公司管理人员第一次访问城市之前就把所有的设施都布置好了。
其结果是,当赞萨科技的管理人员访问珠海时,他们受到了令人印象深刻的设施的欢迎,促使他们立即在那里建立了一个中心。
那么,印度上一次如此积极地进行投资是什么时候呢?
4. 坚持不懈、深思熟虑的营销工作
中国推销自己的一点:市场的规模。
"Every businessperson of any size anywhere in the world knows what the number 1.3 billion means: China's big market. How many know the population of India? Chinese leaders discarded their Mao suits immediately and put on coats and ties, talked the language of commerce, organised thousands of delegations, hosted endless conferences and exhibitions, and laboured to convince foreign investors that China was pro-business, stable, and committed to reform and an open-door policy," suggests Dewoskin.
In contrast, India's corporate leaders agree that the country's politicians have never sold the country.
德沃斯金表示"世界上任何地方,任何规模的企业都知道13亿这个数字意味着什么:中国巨大的市场。有多少人知道印度的人口?中国领头人立即脱下中山装,穿上外套,打上领带,讲商业语言,组织数以千计的代表团,举办无数的会议和展览,努力让外国投资者相信,中国是亲商的、稳定的,致力于改革和开放政策。"
相比之下,印度的企业领袖一致认为,印度的政客们从未推销过自己的国家。
Much of the investment flowing into the country today is on the back of India's reputation as a place for skilled people who have proven themselves in the information technology services sector.
#5. Creation of zones and infrastructure for businesses
China has created many flexible investment zones, export processing zones, free trade zones, high tech zones, complete with tax incentives and good infrastructure.
India has tried to replicate this with its creation of export processing zones and software technology parks.
But the difference lies in some key areas like creation of infrastructure and quick approval of investment proposals.
#6. The business-above-all attitude
"China has had the good fortune of having Hong Kong and Taiwan outside its political control for decades or centuries but within China's ethnic and investment family," says Dewoskin.
如今,大量流入印度的投资中,有很大一部分是因为印度拥有在信息技术服务业证明自己的高技能人才的美誉。
5. 为企业设立专区和基础设施
中国已经建立了许多灵活的投资区、出口加工区、自由贸易区、高新区,还有税收优惠和良好的基础设施。
印度努力复制了这一模式,建立了出口加工区和软件技术园区。
但区别在于一些关键领域,比如基础设施建设和投资提案的快速批准。
6. 商业至上的态度
德沃斯金表示: "几十年或几个世纪以来,中国一直有幸将香港和台湾置于其政治控制之外,但它们都在中国的民族和投资大家庭之内。"
"China always set aside political, social, and ideological differences in the interest of getting investment, technology, and export channels," he adds.
However, in India, trade and economic growth have never been paramount.
India's economic growth has always given in to the sentiments of the local industry; like in cases where foreign investments have been curbed or restricted.
#7. A passionate Diaspora
Much of the 60 million Chinese who live outside the country are economic forces to reckon with. But they also give back heavily to their country in terms of remittances and investments.
China has recognized the importance of its Diaspora and has worked to cultivate it. The Chinese has a special cabinet ministry to deal with the overseas Chinese matter.
他补充道"中国总是把政治、社会和意识形态的差异放在一边,来获得投资、技术和出口渠道,"
然而,在印度,贸易和经济增长从来都不是最重要的。
印度的经济增长总是屈从于当地工业的情绪,就像外国投资受到限制一样。
7. 充满激情的侨民
居住在国外的6000万中国人中的大多数都是不可忽视的经济力量。但他们也在汇款和投资方面大量回馈国家。
中国已经认识到其海外侨民的重要性,并且努力培养他们。中国有一个专门的内阁部门来处理海外华人事务。
Incentives are offered to Non-Resident Chinese to come to China and participate in various socio-economic activities of the Mainland. The current economic boom in southern China, for example, is largely due to the capital investments made by overseas Chinese entrepreneurs.
In the case of India, there has been a lack of consistency in government policy towards Non-Resident Indians.
India thus needs to harness the knowledge and capital of the Diaspora and develop plans on how NRIs can contribute to the country's economic growth.
#8. A strong manufacturing base
China has become the world's manufacturing hub.
The shelves of giant store chains like Wal-Mart are testimony to the fact that msot of the low-cost products today are made in China because it offers the cheapest source of manufacturing.
政府向非常驻华人提供优惠,鼓励他们来华参与内地的各项社会经济活动。例如,中国南方目前的经济繁荣,很大程度上要归功于海外华人企业家的资本投资。
就印度而言,政府对非常驻印度人的政策缺乏一致性。
因此,印度需要利用海外侨民的知识和资本,并制定海外侨民如何为国家经济增长作出贡献的计划。
8. 强大的制造业基地
中国已是全球制造业中心。
像沃尔玛等大型连锁商店的货架证明了这样一个事实:如今大部分低成本产品都是在中国制造的,因为中国提供了最便宜的制造来源。
In electronics and hardware, China is the manufacturing hub for companies like Siemens and Hitachi Global Systems.
China's success in manufacturing has attracted companies from other sectors too. Michelin, the world's biggest car tyre manufacturer, plans to make its Chinese operations its biggest global manufacturing base.
The strong manufacturing base means that China is able to offer employment to a larger section of its population, compared to India which has shown growth predominantly in the services segment.
#9. Ability to respond quickly
"China is very fast and efficient in the redirection of resources into higher education, economics, management, computer science, electronic and biotech engineering, and law," suggests Dewoskin.
"It has a permissive and supportive policy to study abroad, coupled with an aggressive marketing and incentive programme to bring stronger graduates back," says Dewoskin.In contrast, India has yet to counter the problem of brain drain or promote itself as a destination for entrepreneurs who want to set up companies.
在电子和硬件领域,中国是西门子和日立全球系统等公司的制造中心。
中国在制造业的成功也吸引了其它行业的企业。全球最大的汽车轮胎制造商米其林,计划将其中国业务打造为全球最大的制造基地。
强大的制造业基础意味着中国能够为更多的人口提供就业机会,相比之下,印度的增长主要集中在服务业。
9. 快速反应的能力
德沃斯金表示: "中国在将资源转向高等教育、经济、管理、计算机科学、电子和生物技术工程以及法律等领域的速度非常快、效率非常高。"
他还表示: "中国对出国留学采取宽容和支持的政策,同时还实施了积极的市场营销和激励计划,以吸引更优秀的毕业生回国。"相比之下,印度尚未解决人才流失的问题,也没把自己打造成创业者的目的地。
Manish Agarwal
India has little hope of following China's path of development.
The main reason is that India did not achieve the same language and literacy as China, the agrarian revolution, the elimination of religious influence, and too much autonomy across regions.
1. Unify the language and literacy.There are so many languages and written languages in India that it is difficult for people from different regions to communicate, even within the same state.After decades of campaigning in simplified Chinese characters and Mandarin, ordinary Chinese workers have been able to communicate, get news and improve education. In my research on Japanese history, I was surprised to find that the literacy rate in Japan before the Meiji Restoration was already very high, which was a great help to the Meiji restoration.
【回答】
印度几乎没有希望走中国的发展道路。
主要原因是印度没有达到与中国相同的语言和识字能力,没有进行土地改革,没有消除宗教的影响,以及过多的地区自治。
1.统一语言和读写能力。印度有很多语言和书面语言,以至于来自不同地区的人们很难交流,即使是在同一个邦。中国经过几十年的简体字和普通话运动,普通的中国工人已经能够交流,获得新闻和改善教育。在我对日本历史的研究中,我惊讶地发现,在明治维新之前,日本的识字率已经很高了,这对明治维新来说是一个很大的帮助。
2. Agrarian revolution.The agrarian revolution left China with virtually all land owned by the state and only rights to use it. It may not look good, but it helps the government to arrange and use the land properly. By offering compensation and evicting houses, the government can easily get the land it needs without getting bogged down in protracted negotiations.
3. Eliminate religious influence.China has established a non-theocratic society since the Duke of Zhou dynasty 3,000 years ago, and the religious forces in China are still unable to influence the government's major decisions.Nowadays Chinese people can do many things without being influenced by religious forces.India now suffers not only from inequality caused by the Hindu caste system, but also from Hinduism affecting democratic elections.
4. Too much autonomy everywhere.After the founding of the People's Republic of China, the provinces were no longer independent kingdoms.The central government can directly control the regions, just like a chess player can control the whole board, allowing the different regions to develop together. In India, where states run their own affairs, the central government has far less influence over the states than in China, which is a looser federation.This makes it very difficult to cooperate.
2.土地革命。土地革命让中国几乎所有的土地都归国家所有,只有使用权。它可能看起来不太好,但它可以帮助政府合理安排和使用土地。通过提供补偿和拆迁房屋,政府可以很容易地得到它所需要的土地,而不必陷入冗长的谈判。
3.消除宗教影响。中国自3000年前的周朝以来建立了一个非神权社会,中国的宗教力量仍然无法影响政府的重大决策。如今,中国人可以做很多事情而不受宗教势力的影响。印度现在不仅受制于种姓制度造成的不平等,而且还受制于影响民主选举的印度教。
4.到处都有过多的自治权。中华人民共和国成立后,各省不再是独立的王国。中央政府可以直接控制地区,就像棋手可以控制整个棋盘,让不同的地区共同发展。在各邦各自为政的印度,中央政府对国家的影响力远不及中国,就是一个松散的联邦。这使得合作变得非常困难。
Jagabandhu Mishra former Indian Forest Service at Government of India (1985-2012)
India started with poverty, hunger, unemployment, communal conflict and major conflicts with Pakistan. The resource was limited for feeding such a large population. The thrust of the Government was to meet the day to day requirements , bare medicines and minimum food for its masses. But few industries were set up to meet the local needs of the country. Food production was given priority to become food surplus country. India started exporting food items for its oil need and military hard wares. But again there was China war and war with Pakistan. There were floods , cyclones , draught and communal riots. India suffered due to all these problems. But after 1990, reforms started in the economy under the leadership of Prime Minister P.V . Narasimha Rao. Indian economy started moving in the growth path. Now India is the sixth largest economy of the world.
But China started early with its reform process. China opened up its economy by 1970 and industrial activities started growing near major cities. New economic zones were developed and manufacturing activities started without any disturbance. The Government is stable and determined to move forward. So with all these efforts China is the second largest economy with strong growth rate. India is gripped by political manipulation and opportunism. Policy initiatives are not taken with consensus. Industrial developments are obstructed by various groups and sections. Unlimited litigation goes on to stop any industrial activities. Development is obstructed by vested interests in the name of farmers, dalits, minorities and many more sections.
The Communist Government helps China in its growth path. But the Indian Democracy was not helpful in pushing the Indian economy very fast . But India will grow faster very soon.
【回答】前印度政府林业局(1985年-2012年)
印度始于贫穷、饥饿、失业、族群冲突和与巴基斯坦的重大冲突。能养活这么多人口的资源是有限的。政府的主旨是满足日常需要,提供最基本的药品和最低限度的食物给大众。但是,为满足印度当地需求而建立的工业却很少。优先发展粮食生产,成为粮食富余国。印度开始出口食品以满足石油需求和军事硬件。但是,又一次挑起了和中国冲突,和巴基斯坦冲突。洪水、龙卷风、旱灾和社区骚乱。印度由于所有这些问题而损失严重。但1990年以后,在总理帕·文·纳拉辛哈·拉奥的领导下,印度经济开始了改革。印度经济开始走上增长道路。现在印度是世界第六大经济体。
但中国很早就开始了改革进程。中国于1970年开放经济,主要城市附近的工业活动开始增长。建设了新的经济区,开始了制造业活动,没有任何干扰。政府很稳定,决心向前迈进。所以,通过所有这些努力,中国已成为增长率强劲的第二大经济体。印度深陷政治操纵和机会主义的泥潭。采取的政策措施并没有得到共识。工业发展受到各种团体和部门的阻碍。无限制的诉讼持续进行,以阻止任何工业活动。发展受到农民、贱民、少数民族和更多群体名义下的既得利益集团的阻碍。
共产主义政府帮助中国走上了发展道路。但是,印度的民主制度在推动印度经济快速增长方面,没有起到什么作用。但是印度很快就会加快增长的。
Rama Krishna CEO at Business Consulting (2016-present)
China is a totalitarian regime, if the CCP decides something then it gets implemented in no time. China, other than the autonomous regions is by and large uniform in terms of people, culture and race, thus people's aspirations are similar and the CCP can decide and prioritize activities fairly easily.
India on the other hand is extremely chaotic with 29 different states which have varying languages, culture and people. The people's aspirations are diverse thus deciding on activities and prioritizing work is very difficult. People are all held together by the constitution and a common minimum program that successive governments implement. India is also a democracy which means more debate and less development. The common minimum program is hardly able to cover items needed for a reasonably paced and progressive economy. Thus the slow pace in comparison to China. However despite these challenges it's a miracle that the Indian economy is still growing :)
【回答】商业咨询首席执行官(2016年至今)
中国是威权主义政权,如果中国决定做什么,那么它很快就会付诸实施。中国,除了自治区以外,在人民、文化和种族方面基本上是统一的,所以人民的愿望是相似的,党可以相当容易地决定和优先安排活动。
另一方面,印度则极其混乱,有29个不同的邦,有着不同的语言、文化和人口。人民的愿望各不相同,因此很难决定活动和工作的优先次序。宪法和历届政府实施的最低限度的共同计划把人民团结在一起。印度还是一个民主国家,这意味着更多的辩论和更少的发展。共同的最低限度计划几乎无法涵盖合理节奏和进步经济所需的项目。因此与中国相比步伐缓慢。然而,尽管面临这些挑战,但印度经济仍在增长 :)
Reetesh Srivastava lives in Mumbai (2019-present)
China and India were almost at same level of GDP per capita in 1984. China liberalised and went for relatively open market economy 9–10 years earlier than India. Initially when India became a more open economy, India also grew at decent rates, but now India's progress seems to be stalling (10 years back China was still growing much faster than India now and even then).
The reasons are twofold …
a) Indian government's economic policies which are now reversing towards a closed economy and excessive government control over business and businessmen.
Chinese government on the other hand moved in a relatively targeted fashion to improve business competitiveness through policies, investment and scale. Indian government was not able to do that due to coalition politics and corruption earlier and incompetence at highest levels now.
b) Education, Health and population control : China has been able to target these 3 areas much more effectively than India. These are matters of political will and people's (Voters) understanding of importance these areas, both of which are lacking and its a vicious circle.
【回答】生活在孟买 (2019年至今)
1984年,中国和印度的人均国内生产总值几乎处于同一水平。中国实行自由化,比印度早9到10年走向相对开放的市场经济。最初,当印度成为一个更加开放的经济体时,印度的经济增长速度也不错,但现在,印度的进步似乎正在停滞(10年前中国的经济增长速度甚至仍远远超过现在印度的增长速度)。
原因有两个...
1、印度政府的经济政策正在向封闭经济方向转变,和政府过度控制商业和商人。
另一方面,中国政府采取了相对有针对性的措施,通过政策、投资和规模来提高企业竞争力。印度政府未能做到这一点,原因是早期的联合政治和腐败,以及目前最高层的无能。
2、教育、卫生和人口控制:中国能够比印度更有效地瞄准这三个领域。这些都是关系到政治意愿和人民(选民)对这些领域重要性的理解问题,这两者都缺乏,这是一个恶性循环。
Praveen Sharma Indian.
* China is still not a developed country
* China liberalised their economy two decades before India.
* China ranks 19th in World Bank's annual "Ease of Doing Business" surveys, while India stands around 186th position. No amount of "hard selling" Make in India is going to convince industries, unless we bring major reforms in labour and land laws. It's nightmare to start a business in India, even after paying sufficient bribe.
* Chinese were able to realise how infrastructure is a economic multiplier,and invested heavily on it. India on the other hand, has really not paid attention to infrastructure as it deserves.
* Not much attention was paid in past to boost the productivity of semi-skilled and skilled labour.
* Major reforms are seldom undertaken because many of them are unpopular among masses, and therefore politicians resort to quick fixes. Chinese politicians don't have to worry about winning elections.
【回答】印度人
* 中国还不是发达国家。
* 中国比印度早二十年开放经济。
* 在世界银行年度"营商环境"调查中,中国排名第19位,印度排名约为第186位。除非我们对劳动法和土地法进行重大改革,否则印度再多的"硬性推销"也无法说服工业界。在印度做生意简直是噩梦,即使行贿足够多也不行。
* 中国人能够意识到基础设施如何促进经济增长的,并对其进行了大量投资。另一方面,印度并没有真正重视应有的基础设施建设。
* 过去,人们并没有过多关注提高半熟练和熟练劳动力的生产率。
* 印度很少进行重大改革,因为许多改革在民众中不受欢迎,所以政治家们只能采取权宜之计。中国的政治家们不必担心选举输赢。
Maulik Shah
Who said India is Not Successful. Indian Growth is More cyclical. Of course compared to the growth experienced by China, India is little behind following are the factors why Chinese economy was able to outperform Indian Economy.
* More than 1 Person Earning for the Family (Majority of Chinses Population are working compared to India we usually have 1 Head of the family taking care of Family of 4 or 6)
* Ease of Starting and Closing Factories (Its very easy to float a business in China and also very easy to exit the business)
* Fewer frauds and Loopholes due to Strict Laws (More Death Penalties than any other country in the world)
* Great Vision by the Government (20 to 50-year Planning) whereas Indian govt is usually known for short planning 5 years or less.
【回答】
谁说印度没有取得成就。印度的经济增长更具周期性。当然,与中国的经济增长相比,印度也没有落后多少,以下是中国经济能够超越印度经济的因素。
* 超过一个人挣钱养家(与印度相比,大多数人都在工作,而印度通常只有一家之主照顾4口或6口之家)
* 开办和关闭工厂的便利程度(在中国开展业务很容易,关闭业务也很容易)
* 由于严格的法律,欺诈和漏洞更少(死刑数量比世界上任何其他国家都多)
* 政府的远见卓识(20至50年的规划),而印度政府通常以5年或更短的短期规划著称。
* Land and Resources - China has more port than India
* China was earlier chosen for cheaper labour of the world now its known for Mass production and economy of scale.
India in the next 20 years would be at par with Chinese economy however we need a long lasting growth planning.
* 国土资源——中国比印度拥有更多的港口。
* 早些时候,中国被选为世界上劳动力成本更低的国家,而现在中国以大规模生产和规模经济著称。
印度在未来20年能够与中国经济并驾齐驱,但我们需要一个长期的增长计划。
Sounderrajan Balakrishnan lives in Bengaluru, Karnataka, India
* China has many advantages over India.
* There is single party system in China, while in India, we have democracy, with multi party political system. Multi party means disunity in everything. Multiple forces acting in multiple directions in India. In China, Government is ruling with iron fist.
* Practically, there are no religions in China. All are Atheists. In India, we have multiple religions. Again, multiple religions means always misunderstanding , emotional disturbances and disunity among people in India. No such problem in China.
* Single child norm in China, while no population control in India.
【回答】住在印度卡纳塔克邦的班加罗尔
* 中国比印度具有许多优势。
* 中国实行一党制,印度实行民主,多党制。多党制意味着所有都不统一。在印度,多种力量在多个方向上作用。在中国,实行的是铁腕统治。
* 实际上,中国没有宗教。所有人都是无神论者。在印度,我们有多种宗教。同样,在印度,多种宗教意味着人们之间总是存在误解、情绪冲动和不团结。在中国没有这样的问题。
* 中国的独生子女政策,而印度没有人口控制政策。
-------------------------------------------------------
Sanjay Shetty
I agree. Democracy was and is not a suitable political system for a country like India. Democracy requires an educated and mature population who are highly educated, enlightened and informed, with a very high level of awareness of their duties, responsilities and rights. like they have in the US,Western Europe,Japan,Australia etc. india by contrast has a population which is pre dominantly illiterate,poor and gullible which can be easily taken for a ride by unscrupulous politicians and leaders. Instead if we had opted for some kind of a benevolent dictatorship type of system soon after independence maybe we could have seen some difference today.
【回复】我同意。对于像印度这样的国家来说,民主过去和现在都不是一个合适的政治制度。民主需要一个受过高等教育的成熟人口,他们受过高等教育,开明,知情,对自己的职责、责任和权利有很高的认识。与美国、西欧、日本、澳大利亚等国的情况相反,印度的人口主要是文盲、穷人和容易上当受骗的人,这些人很容易被肆无忌惮的政客和领导人利用。相反,如果我们在独立后不久就选择了某种仁慈的独裁制度,也许我们今天就可以看到一些不同。
-------------------------------------------------------
Vishal Sachdev I am an Indian born and raised in Panama
As we speak, India's infrastructure is going through a major modernization program with reforms in taxation, FDI, ease of doing business, transportation, e-Governance, improved bilateral relations with many countries; but the most important change that made India develop faster was bridging the digital divide. Before cheap data connectivity, less than 17% of rural India had any access to the internet.
【回答】我是在巴拿马出生和长大的印度人
正如我们所说,印度的基础设施正在经历一次重大的现代化计划,在税收、外国直接投资、经商便利性、交通、电子政务等方面进行了改革,改善了与许多国家的双边关系;但是,让印度发展得更快的最重要的变化是弥合数字鸿沟。在廉价的数据连接之前,只有不到17%的印度农村地区能够上网。
Mumin Ali Assistant Professor at Public Colleges and Universities (2014-present)
The reasons are:
* China has more land than India.
* China has a powerful dictatorship, while India is stuck with democracy which lacks powerful leaders.
* Chinese people are patriots, Indians are selfish and divided in regional conflicts.
* China has one language which unites them all, India does not have a national language.
* China eliminates spies from other nations, In India spies are ruling a few states.
* China is aggressive,. India is weak they lost part of Kashmir and Arunachal to Pakistan and China
【回答】公立学院及大学助理教授(2014年-至今)
原因是:
* 中国的土地比印度多。
* 中国是一个强大的威权国家,而印度是一个缺乏强有力领导人的民主国家。
* 中国人是爱国者,印度人自私自利,在地区冲突中处于分裂状态。
* 中国只有一种语言,把他们联系在一起,而印度没有本国语言。
* 中国消灭了来自其他国家的间谍,在印度,间谍统治着几个邦。
* 中国咄咄逼人。印度很弱,他们失去了克什米尔和阿鲁纳恰尔的一部分给了巴基斯坦和中国
Dr Shailendra Dwivedi
No,India was richest in ancient times and also well known country of resources but it was only looted since ancient time and then after freedom by past congress govt.Now since the 2014 it has been democratically governed by Narendra Modi who is honest and have nationalist inclination and also loved to say himself as a country servant.
Definitely the day come when we will gain our past glory.Just wait and Watch. Jai Hind
【回答】
不,印度在古代是最富有的国家,也是众所周知的资源大国,但是它自古以来就被掠夺,然后在获得自由后又被国会政府掠夺。现在,自2014年以来,纳伦德拉 · 莫迪一直以民主的方式统治着这个国家。莫迪诚实,有民族主义倾向,还喜欢称自己为国家的公仆。
绝对有一天,我们将重获我们过去的荣耀。等着瞧吧。印度万岁。
Wasu Koysiripong Travelled to over 40 countries in Asia Pacific and Europe
A2A
* India began the economic reform about 14 years later than China did.
* India lacks the good governance that China has, despite its universal suffrage.
* The Indians in general are less industrious, disciplined and materialistic than the Chinese.
However, it is worth noting that India has also been developing quite fast and it already excels in many technological fields. Though compared with China, India's success may not look as outstanding, but in comparison with many other developing countries,it is quite impressive.
【回答】去过亚太和欧洲40多个国家
谢谢邀请。
* 印度开始经济改革的时间比中国晚大约14年。
* 印度缺乏中国那样的善治,尽管它有普选权。
* 印度人总体上不如中国人勤劳、纪律严明、物质主义。
然而,值得注意的是,印度的发展也相当快,它已经在许多技术领域表现出类拔萃。虽然与中国相比,印度的成功可能看起来不那么突出,但与许多其他发展中国家相比,印度的成功却让人印象深刻。