David Honsberger former Accountant at Detroit Police Department (1972-1997)
They almost drove the U.S. into the ocean during the Korean war. Their proxies kicked our butts in Viet Nam. Now, they are highly motivated with better arms.
We are militarily led by the West Point Protective Association which does stupid shit. And we lose even after winning battles. We won the Tet offensive and lost the war. We win and then give the territory back to the enemy.
If we went to war with China, they would probably kick our butts because we would have no allies. The world would side with China. That would leave us so weak that Russia could take Alaska, Mexico could take back the southwest, and the remainder would be Balkanized into several smaller countries.
I will never see it because i will be dead on a battlefield somewhere.
【回答】前底特律警察局会计师(1972年-1997年)
在朝鲜战争期间,他们几乎把美国赶到海上。他们的代理人在越南狠狠地揍了我们一顿。现在,他们有了更好的武器,积极性更高。
我们在军事上是由西点军校保护协会领导的,尽干一些蠢事。即使我们赢得了战争,也会输。我们赢得了春节攻势,却输掉了战争。我们赢了,然后把领土还给了敌人。
如果我们和中国开战,他们可能会再狠揍我们一顿,因为我们没有盟友。世界会站在中国一边。这会使我们变得非常虚弱,以至于俄罗斯可以拿下阿拉斯加,墨西哥可以夺回西南部,剩下的将被分割成几个小国家。
我永远不会看到这情况发生的,因为我会死在某个战场上。
-------------------------------------------------------
Jonah Chan
"My country right or wrong"
while I can't hide my feeling that it's not right, neither I can hide my admiration to such patriotism.
let's hope the war wouldn't happen
【回复】"我的国家是对还是错"
虽然我不能掩饰我认为这是不对的感觉,但也不能掩饰我对这种爱国主义的钦佩。
希望战争不会发生。
David Honsberger
It will not happen. We have no allies. The treatment of our allies shows the world that anyone would be crazy to be allied to us.
i love America, have served it in and out of the military for almost 60 years, and do not want to live to see it go down.
【作者回复】这是不可能发生的。我们没有盟友。我们对待盟友的方式向世界表明,任何与我们结盟的人都是疯子。
我热爱美国,已经在军队里外服役近60年了,我不想活着看到它倒下。
A J
True, it shows in how the US treated Pakistan versus how China treated Pakistan. Both are at least supposed to be allies of Pakistan. But everyone knows you can't trust the Americans any further than you can throw them. Whereas if China calls you an Ally then they will stay your Ally even in tough times.
【回复】的确,这表现了美国如何对待巴基斯坦,而中国如何对待巴基斯坦。两国至少都被认为是巴基斯坦的盟友。但是每个人都知道你不能再相信美国人了。然而,如果中国称你为盟友,那么即使在困难时期,他们也会继续是你的盟友。
-------------------------------------------------------
Anonymous
David Dyer Notice how most of the wars in the past 40 years have been started by America. If it's anyone who can't seem to learn their lesson, it's America.
China now has the 3rd largest military in the world, and is in partnership with Russia who has the 2nd largest.
Now it doesn't want to go to war with anyone, but if Japan tries that shit again, China will absolutely relish in annihilating it. Same goes to any Western Alliance or country who wants to try their luck on Chinese land.
【回答】
David Dyer,你要注意到过去40年的大多数战争都是由美国发动的。如果有人似乎不能吸取教训,那就是美国。
中国目前拥有世界第三大军事力量,而且与俄罗斯合作,俄罗斯拥有世界第二大军事力量。
现在中国不想和任何人开战,但是如果日本再敢做这种烂事,中国绝对会享受消灭它的乐趣。任何想在中国土地上碰碰运气的西方联盟或国家也是如此。
Andrew Chang, Part-time Philosopher
Ideally, it is the role and duty of every citizen to defend their country, especially so for soldiers that have pledged allegiance to the country and taken on such a vocation to do so directly.
That said, many many countries that are born after WW2 have not had their armed forces tested in a war. Notable is the direct participation of the PRC in the Korean conflict in 1950 through the PVA.
This applies to all countries that are involved in battlefields, that there is the expectation their soldiers will fight for their side and remain there till the conclusion.
【回答】兼职哲学家
理想的情况是,每个公民都有保卫自己国家的职责和义务,特别是对于那些已经宣誓效忠国家并承担这种职责的士兵来说。
也就是说,许多二战后出生的国家没能在战争中检测他们的武装部队。值得注意的是中国通过志愿军直接参与了1950年的朝鲜战争。
这适用于所有卷入战场的国家,人们期望他们的士兵会为他们而战,直到战争结束。
Alan Johnson
"The Chinese suffered 100 years of humiliation and devastation triggered by the West which they have barely recovered from. How do you think Chinese soldiers might act on the battlefield if a foreign country threatened their country like that again?"
Did they really? The vast majority of china was never occupied by any western country and the only historic incident in the time frame when it is even vaguely sensible to talk about the 'west' is the war with Japan.
It seems rather obvious to say so but Japan at the time could not be defined as 'western' under any conceivable definition.
【回答】
"中国人遭受了西方带来的一百年的屈辱和摧残,他们差点没恢复过来。如果外国再次威胁中国,你认为中国士兵会在战场上采取什么行动?"
真的吗?中国绝大多数领土从未被任何西方国家占领过,在这个时间范围内,唯一可以模糊地称为"西方"的历史性事件就是与日本的战争。
但当时无论用任何的定义,日本都不能被定义为"西方",这似乎是相当明显的。
-------------------------------------------------------
Missy Reviouer
You and David Dyer, Does the word "triggered" or proper reading of a question not mean anything to Americans?
【回复】你和David Dyer,对美国人来说,"摧残"这个词或对问题的正确解读,是没有任何意义的吗?
Jay Huang
They were made honorary Aryans sounds pretty western to me
【回复】他们是名誉的雅利安人,对我来说听起来很西方
Haibo
google 八国联军进北京
【回复】谷歌一下,八国联军进北京
-------------------------------------------------------
David Liu master Economics & History (2000)
how to threaten china now? the invading fleets would be sunk by china's missle waves 1000 miles away from china's coast…
so,chinese soldiers have little chance to deal with invaders on the battlefields…their main duty is to capture/rescue those exhausted invading sailors/soldiers ,who have luckily jumped out of sunkships' deck and float near china's coast…
【回答】经济与历史硕士(2000年)
现在怎么威胁中国?入侵的舰队会在距离中国海岸1000英里处,被中国的导弹击沉。
因此,中国士兵在战场上很少有机会对付侵略者... 他们的主要任务将是抓捕或营救那些精疲力尽落入海中的入侵水手/士兵,他们幸运地从沉船的甲板跳出了,漂浮在中国的海岸附近...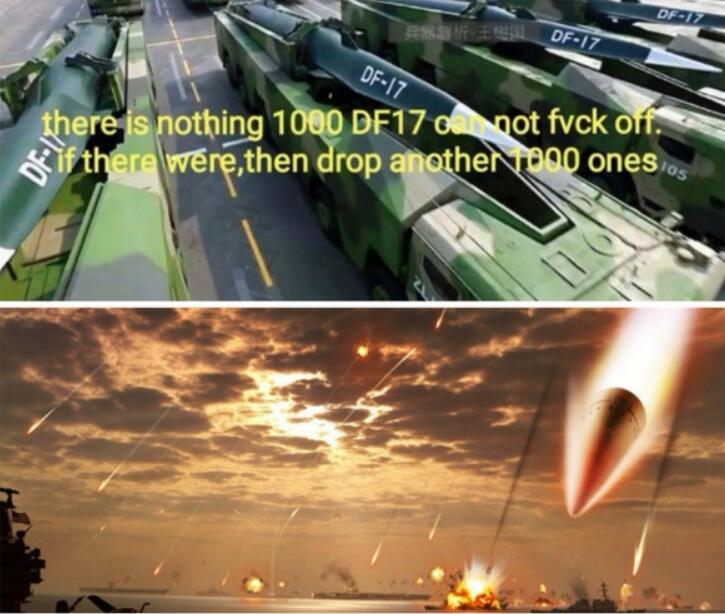 Mark Peacock studied at Murdoch University
The past is the past. Killing people today because some other people long ago did harm to your great grandparents is not moral, it's not justice.
Move into the future, you can not avenge something that did not happen to you by hurting people who were not there.
【回答】就读于默多克大学
过去的就让它过去吧。因为很久以前的一些人伤害了你的曾祖父母,所以你在今天杀人,这是不道德的,也不是正义的。
迈向未来,你不能通过伤害不在场的人来报复没有发生在你身上的事情。
Kenneth Lim Bachelor Degree from National University of Singapore
Have you read the Korea war? The Vietnam-China border war? The India-China border war? The Soviet Union-China border war? If you have not read any of them, go to library to read one of them to understand the Chinese army in the battle field.
【回答】新加坡国立大学 学士学位
你读过朝鲜战争吗?中越边界战争?中印边界战争?苏中边境战争?如果你没有读过这些书,可以去图书馆读一读,了解一下战场上的中国军队。
Jonan Ng, Bachelor Medical BioScience
What do you mean "barely recovered from"? Mainland Chinese are doing well. China is developing rapidly. Their military surpassed the USChina's Military Has Surpassed US in Ships, Missiles and Air Defense, DoD Report FindsChina's military is already superior to the U.S. in several respects and is aiming for total dominance.
【回答】医学生物科学学士
你说"差点没有恢复过来"是什么意思?中国大陆的情况很好。中国正在迅速发展。美国国防部报告发现,中国军队在舰艇、导弹和防空方面已经超过了美国,中国的军队在几个方面已经超过了美国,并且正在争取全面主导地位。
------------------------------------
jish55
No surprise. I mean hell, what's the US been doing for the last 20 years? fighting a non stop conflict in the middle east. Now, this is important for one very big reason, and that's that both China and Russia now have 20 years of intel on the US military as well as 20 years of footage they've been studying on US military tactics, weapons, armor, how the US sets up bases, what bases look like, how they're formed, etc. A strong military is only as strong as the knowledge it wields, to where even with inferior weapons and tech, a "weaker" military force could out perform a superior one every day of the week, and America has basically handed this knowledge to the next strongest military forces on a silver platter while they spent 20 years studying and advancing everything so as to surpass us without losing moral, funding, and overall power.
【回复】这并不奇怪。我的意思是,在过去的20年里,美国一直在做什么?在中东地区不间断地进行冲突。现在,有一个非常重要的原因,那就是中国和俄罗斯现在都有关于美国军队的二十年情报,以及二十年来他们一直在研究的关于美国军事战术、武器、装甲、美国如何建立基地、基地是什么样子、如何形成等等的录像。一支强大的军队只取决于它所掌握的知识,即使拥有劣质的武器和技术,一支 "较弱 "的军队也能在一周内的每一天都胜过一支优秀的军队,而美国基本上已经把这些知识拱手让给了下一个最强大的军事力量,而他们花了二十年的时间研究和推进一切,以便在不失道德、资金和整体力量的情况下超越我们。
SamaelAcost
You can have all of the military vehicles and weapons you want, but if none of them work, you will be taken down by a much less strengthened military. I can only hope we stop letting the public be changed into what anti-nationalist weak minded scum we are becoming.
【回复】你可以拥有你想要的所有军事车辆和武器,但是如果它们都不能发挥作用,你就会被一支实力弱得多的军队打倒。我只能希望我们不要再让公众变成反民族主义、意志薄弱的人渣。
Loc Huu
China has the capacity to replace personnel and equipment losses in a heated conflict, whereas the United States would have some serious difficulties given the crash of its manufacturing capacity over the past few decades.
【回复】在激烈的冲突中,中国有能力弥补人员和设备的损失,而美国在过去几十年制造能力崩溃的情况下,将面临一些严重的困难。
Bluhorizons
I went to a Chinese trade show. There you could buy electric tools that has a 2-month warranty or you could buy electric tools that had a lifetime warranty. You get what you pay for.
【回复】我去参加过一个中国贸易展览会。在那里你可以买到有两个月保修期的电动工具,或者买到有终身保修期的电动工具。一分钱一分货。
SamaelAcost
The reason why Chinese products are often defective is a cultural one, the Chinese think they have no responsibility to use quality ingredients for their consumers. As for America's inability to fight a traditional war, not even total war, you're absolutely correct, in fact all of this is connected. When American Industry leaders picked up shop and moved our manufacturing to China they made a hefty profit for their CEO's and the Chinese at America's exspense. Those manufacturing jobs are what made the vast majority of American citizens able to afford American made-high quality goods, when they lost those jobs it came at the exchange of recieving lower priced goods shipped here from china, but they make less money too because now they work in the service industry. Our economy is a service economy now instead of a manufacturing one, wallmart and amazon is the new factory, and they pay so little that their employees are litterally being subsidized by tax dollars in the form of foodstamps and other aid. That moved American gdp away from industry, we're down to 7% of our gdp being from manufacturing, we need that to be 25% in order to make enough boots, and toothbrushes and stuff to be able to fight a war againsst the chinese. It's also 20 years, our population would need to be trained from scratch to make stuff again, we lost the knowledge at this point. Yay Capitalism without Government oversight.
【回复】中国产品经常有缺陷的原因是文化上的,中国人认为他们没有责任为他们的消费者使用高质量的原料。至于美国没有能力打一场传统战争,甚至没有能力打一场全面的战争,你说的完全正确,事实上所有这些都是相互关联的。当美国的工业领袖们开始在中国经营,并把我们的制造业务转移到中国时,他们为他们的CEO和中国人赚取了丰厚的利润,而美国人却付出了代价。正是这些制造业工作让绝大多数美国公民有能力购买美国制造的高质量商品。当他们失去这些工作时,换来接受从中国运到美国的低价商品,但他们赚的钱也少了,因为他们现在在服务业工作。我们的经济现在是服务型经济,而不是制造型经济,沃尔玛和亚马逊是新工厂,他们支付的工资太少,以至于他们的雇员基本上都是以食品券和其他援助形式的税收补贴。这使得美国的GDP远离了工业,我们的制造业占GDP的比例下降到7%,我们需要这个比例达到25%,这样才能生产足够的靴子、牙刷和其他东西,从而能够打一场针对中国的战争。这也需要20年,我们的人口需要从零开始培训,再次制造东西,我们丢掉了相关的知识。是的,没有政府监管的资本主义。
Bluhorizons
Anyone who has frequented China knows that China is much more unified and is advancing much more rapidly than the US. When I send friends in America pics I took of my China trips, they get angry at me! What I am sending is contrary to what they have been led to believe.
Also, while the US wants people to focus on China being an authoritarian dictatorship, when you are there you can see that the government is very kind and thoughtful for its people. It is not the brutal dictatorship Mexicans have ben led to believe. The US needs to stop believing the propaganda demonizing China and see it for the emerging threat it really is, not just militarily but economically and culturally.
【回复】任何经常去中国的人都知道,中国比美国团结得多,发展得也快得多。当我把我在中国旅行的照片发给美国的朋友时,他们对我很生气!我所传达的与他们所相信的相反。
此外,尽管美国希望人们关注中国是一个专制国家,但当你去那里的时候,你会发现中国政府对人民非常友善和体贴。这不是墨西哥人所相信的那种残酷的独裁政权。美国需要停止相信妖魔化中国的宣传,看清它真正的威胁所在,不仅仅是军事上,还有经济上和文化上。
BMC71
It is a real threat has been since the 50s who did we fight in Korea and Vietnam, who's weapons are all over the middle east
【回复】它是一个真正的威胁,自50年代以来,我们在朝鲜和越南战场上与之战斗,它的武器遍布中东。
peredavid
You fought Koreans and Vietnamese. The Russians gave both of the more logistical help than China did.
China did allow a lot more 'fraternal volunteers' to cross the Yalu - to match the USA rounding-up. That wasn't needed in Vietnam, they were doing OK on their own.
【回复】你说的朝鲜和越南,俄罗斯给了他们比中国更多的后勤支援。
中国确实允许更多的志愿军渡过鸭绿江,以对抗美国的围捕。这在越南不需要,他们自己做得很好。
UsnoozeUlose
Learning Chinese at my age won't work. Let me fight.
【回复】在我这个年龄学中文是不行了。让我战斗吧。
27238114
So where is our 750-Billion a year going, we spend more than the next 7-nations combined, 5 are allies... I hope still...where is the money going, in to research...
【回复】那么,我们每年的7500亿美元花到哪里去了?我们的支出超过了后面7个国家的总和。其中5个国家是盟友... 我仍然希望... 这些钱会用于研究..
37023366
It's easy to outproduce others when you don't have to spend money researching new technology but instead just steal it.
【回复】如果你不需要花钱研究新技术,而是直接偷取的话,那么你很容易超过别人。
JimmyD
You do understand we did the same thing to the Brits in the 1800's? And every developing nation does the same thing? And you're shocked?
【回复】你知道我们在19世纪对英国人也做过同样的事吧?每个发展中国家都这样做的吧?你很震惊吗?
JCLincoln
The U.S. has 10,000 nukes, China has 250. Bottom line
【回复】美国有10000枚核武器,中国有250枚。底线。
Phaeton
US has 2500 active warheads,another 1000 in reserve that it can't really use.
Chinese numbers are classified.
【回复】美国拥有2500枚现役核弹头,另有1000枚储备核弹头,但无法真正使用。
中国的数字是保密的。
27238114
All targeted by both the Chinese/Russians, our only hope are the Nuclear Subs, but I guess they are being tracked too...we might be able to launch 20-30 at best...I don't see the Russians standing by and watching, that would be their opportunity to strike and possibly survive....
【回复】所有这些都是中国/俄罗斯的目标,我们唯一的希望是核潜艇,但我猜他们也被追踪了... 我们最多只能发射20-30枚... 我不认为俄罗斯人会站在旁边看着,这将是他们发动攻击和生存下来的机会。
mariandavid
The Chinese economy has in the last 3-5 years measurably exceeded that of the US: The problem is I suspect that the average American has missed this because of the emphasis on the peculiarly massive increase in the US stock markets, while in China the increase was in GDP, industrial and infrastructure investment, exports and internal consumption.
However much of this stuff from the DoD is the usual click bait intended to frighten Americans into accepting massive additional investment in armament companies. For example the comments on the relative strength of the two navies is nonsensical invention. Basically they are saying that the Chinese navy has more boats than does the US Navy - utterly ignoring the size, strength and capacity of the 'boats' in question.
【回复】中国经济在过去3年-5年中的增速明显超过了美国:问题在于,我怀疑普通美国人没有注意到这一点,因为他们强调的是美国股市异常大幅增长,而中国增长的是GDP、工业、基础设施投资、出口和内部消费。
然而,那些来自国防部的东西,大部分都是用来吓唬美国人接受军工企业大规模额外投资的点击诱饵。例如,关于两国海军相对实力的评论是荒谬的。他们基本上是在说,中国海军拥有的舰船比美国海军多,完全无视了这些"舰
船"的规模、力量和能力。
InD70s
By shifting business away from China towards India, at the same time will be the only way to deal with the CCP.
【回复】把业务从中国转移到印度,将是与中国打交道的唯一途径。
gunbunny476
India is the only one with the potential to be a strong partner against the China. Japan is weak and insular, and Australia is too small a population, and getting more socialist by the day.
【回复】印度是唯一一个有潜力成为对抗中国的强大伙伴的国家。日本弱小保守,而澳大利亚人口太少,而且日益变得社会主义化。
30578510
I bet the Japanese Navy would kick the Chinese Navy's butt!
【回复】我敢打赌,日本海军一定会狠狠揍中国海军的!
Avatar
If we unleashed them, they could be tenacious little warriors...a little Sake and Kamikaze thrown in for good measure, reminiscent of the good old days of the Empire
【回复】如果我们释放他们,他们可能是顽强的小战士…再来点清酒和神风敢死队,让人想起帝国昔日的美好时光
37760945
We've already fought the Chinese in Korea, and that was not a happy experience for us.
To see what THAT was all about Google "Regimental Combat Team 31."
It was the first U.S. Army unit attacked by the Chinese, on the eastern shore of the Chosin Reservoir.
【回复】我们已经在朝鲜和中国人打过仗了,这对我们来说不是一次愉快的经历。
要想知道那是怎么回事,谷歌一下"美国陆军第31步兵团(北极熊团)"。(译注:全歼美军加强步兵团的成功战例,其上校团长麦克莱恩被志愿军击毙,缴获其团旗)
这是美军第一支在长津水库东岸受到中国攻击的部队。
------------------------------------
Wenxiang Chen lives in China
No matter what the background of the question is and which country it is, there can only be one answer to this question
are you ready
"How do you think Chinese soldiers might act on?"
——Just like soldiers all over the world, act on the orders of their commander
【回答】住在中国
无论这个问题的背景是什么,是哪个国家,这个问题都只有一个答案。
你准备好了吗?
"你认为中国士兵会采取什么行动?"——就像全世界的士兵一样,服从指挥官的命令。
Ian Hudson
In 30 to 50 years, China is going to be an absolutely amazing country, everywhere clean, Everywhere clean energy Tech, everywhere modern, everyone happy.
West will criticize, threaten and argue for those 30–50 years, do nothing, spend all the taxpayers money on WMD's, invade 10 Countries, Have 5 more financial meltdowns, but the last 4 won't be that bad, because the 1st one to come destroyed the whole economy and we had no one to lend money
China doesn't need to do anything but watch
The past 3 years have given the world the greatest comedy from the US in years
China just said in a few years we'll be the biggest economy, the US went into panic attack. I doubt China cares that much if it's number one or number 5, and it's bad business if the US economy fails
【回答】
在30年到50年内,中国将成为一个绝对惊人的国家,到处都是清洁能源,到处都是现代化,每个人都很开心。
西方会批评、威胁、争论这三五十年,什么都不做,把纳税人的钱都花在大规模杀伤性武器上,入侵10个国家,再发生5次金融危机,但最后4次没有那么糟糕,因为第一次破坏了整个经济,我们没有人借钱。
中国除了看着,什么都不需要做。
过去3年,美国带来了世界上这几年来最棒的喜剧
中国刚刚表示,在几年内我们将成为最大的经济体,美国陷入了恐慌。我怀疑中国是否真的在乎它是第一还是第五,如果美国经济失败了,那将是一桩糟糕的生意。
Bryan Goh
The best revenge is to have a civil, flourishing society, where there is optimism and progress. Where there are strong civic institutions, an efficient bureaucracy, and effective laws. Where there is room for culture and the arts, a strong social safety net, and no poverty or homelessness.
THAT is the sign of strength. Aggression is for the weak and the desperate.
When you can have a century of progress, or a century of peace, THAT will be ultimate revenge for a century of humiliation.
【回答】
最好的报复就是拥有一个文明、繁荣的社会,那里有乐观和进步。那里有强有力的公民机构,高效的官僚机构和有效的法律。那里有文化和艺术的空间,有强大的社会安全网,没有贫穷和无家可归的人。
这就是力量的标志,侵略是弱者和绝望者的专利。
当你拥有一个世纪的进步,或者一个世纪的和平,那将是对百年屈辱的终极报复。
Vincent Chu former Retired
Today war is more of economic. China was humiliated even in Asia when it was poor. China is respected now due to its economic status. Philippines now respect China and China was not respected by the Philippines when it was poor. The respect is due to its current economic status not military status.
【回答】退休人员
当今的战争更多的是经济上的。中国在贫穷的时候,甚至在亚洲也蒙受屈辱。中国现在因其经济地位而受到尊重。菲律宾现在尊重中国,而中国在很穷的时候并没有受到菲律宾的尊重。这种尊重是因为它目前的经济地位,而不是军事地位。
Vlado Viglasky
I expect they would behave like the Afgani army - they'd throw away their arms and ask the western countries for a political assylum.
【回答】
我预计他们会像阿富汗军队一样,扔掉武器,向西方国家索要政治空间。
Henrique Valle lives in Lusaka, Zambia
The thing that most people who havent lived in China and Chinese who never lived in the West get wrong is that the two different worlds have a VERY different view in terms of country and its people.
To a Chinese in general an offense towards China is an offense towards China AND its people, top to bottom including everything Chinese that ever lived, offense in the past or present.
That opium you sold them? Well, one day you will pay for that or at least they will rationalize any action using that as a motive.For a Westerner this view of country and civilization as a monolith does not exist.
There's much more cohesion in the Chinese approach: the United Front Mao spoke about. You don't have that in the West, at all.
【回答】住在赞比亚的卢萨卡
大多数没有在中国生活过的人和没有在西方生活过的中国人都错了,这两个不同的世界在国家和人民方面有着非常不同的观点。
对于一般中国人来说,对中国的冒犯就是对中国及其人民的冒犯,从上到下,包括所有历史中生活过的中国人,无论是过去还是现在。
你卖给他们鸦片?好吧,总有一天你会为此付出代价,或者至少他们会以此为动机,来让任何行为合理化。对于一个西方人来说,这种把国家和文明视为一个整体的观点是不存在的。
中国的做法有更多的凝聚力:毛提到的统一战线。在西方根本就没有这个。